Most business owners aren't familiar with Google My Business ("GMB"), a Google product that allows your Business to gain more visibility in their search engine. But this platform provides a major benefit for just about any business owner: it puts you on the map. Literally.
By setting up your GMB listing you're allowing yourself to be put into Google Maps and also allowing potential clients/customers to see more about your business, including location, business hours and services. It also allows you to get reviews about your site, which can also hurt you if you're not aware that you already have a GMB listing.
Yep, you read that right! You may already have an existing GMB listing that is getting negative reviews, which is just another reason why you need to claim your GMB listing and set it up properly so you have full control over it.
How?
Easy. Follow these steps:
STEP 1:
Search Google Maps
Head over to https://www.google.com/maps/ and enter your business name. Does it show up? If so, continue on. If not, go here to set your business up: https://www.google.com/business/
STEP 2:
Click on the name of your business to see your current GMB listing. Again, if it doesn't appear be sure to set yours up here: https://www.google.com/business/
STEP 3:
Now you want to look on the far left side (your left) and look for the following: "Claim this business", like so: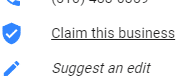 STEP 4:
Now you'll arrive at a new page that looks like this: (edited out business info for privacy reasons)
Check the box that states you are authorized to manage this business.
STEP 5:
Now you will arrive at a new page that asks how you want to receive your verification code.
Phone
Text
Mail
This page will look like the following: (edited for privacy)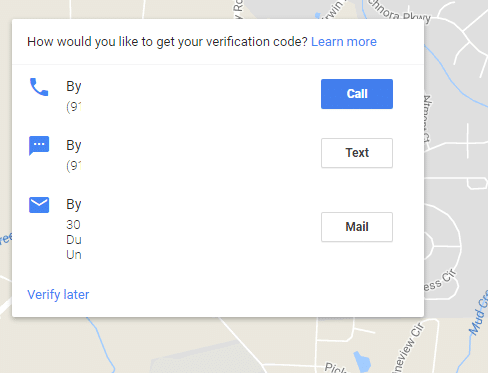 STEP 6:
You could, of course, verify later. The problem with this is in the limitations of the new or existing account. Do yourself a favor and just verify now.
Once you verify your account you will be able to have full control over your business listing, which means others cannot edit or make strange changes to it.
Clint Lenard has been involved in digital marketing since 2001. He has worked with enterprise clients, large ecommerce clients, many law firms and even local mom and pop shops. Since 2008 he's also been using Facebook and AdWords to drive leads to clients. Looking for improvements to your client acquisition strategies? Book an appointment today!
Our Blog
Want to learn more about what we do at LeadLocals.com? Our blog will explain what we do, how we do it and more.
Request a free quote
Our digital marketing agency has helped hundreds of clients from across the globe. How can we help you? Find out today!
[easy-share counters=1 counter_pos="inside" native="no" hide_total="yes" fullwidth="yes" fullwidth_fix="100"]